Ask a dozen people what is the best vape tank and you'll get a dozen different answers. Fact is it depends…here we cover the best tanks for a range of use cases.
How to choose the best vape tank for you?
Here are some of the most important features to look for when choosing the right vape tank. Think about which features are most important to you and later we will go over some recommendations as to which tanks would be ideal for your personal vaping preference.

Flavor + Performance - You want a tank with awesome flavor so that you can enjoy your favorite e-liquids in the best way possible. It should also be a tank that you can depend on with consistently smooth performance down to the last puff.
Coil Heads - How long do they last? A tank is only as good as its coil heads. You want a tank with dependable coil heads that can last a long time. A good coil head is also consistent, so you get the same performance every time you install new one.
Design - Does it look nice? The overall aesthetics are essential to any vape tank, it completes your entire setup. You want a vape tank that looks great on your favorite mods, one that stands out from the rest. It should also represent your own personality.
Airflow - Is it smooth? Airflow can make or break a vape tank. You want one that lets you dial in that perfect hit. It should always be quiet and smooth, no matter how you adjust it. Airflow is crucial whether you are a direct lung or mouth to lung vaper.
Material of heating wire - Different coils utilize various kinds of heating wire materials including kanthal, stainless steel, nichrome etc. The type of wire can greatly affect the type of vape that it produces. Kanthal is the most commonly used material but is only suitable for use in wattage mode. Stainless steel is the most versatile material, it can be used in both regular wattage mode or temperature control mode. Nichrome is ideal for cloud chasing because it heats up really quick and it also provides a very warm vape.
Material of wick - There are many types of wicking materials on the market right now such as cotton, flax fiber, tea fiber, etc. Cotton does a good job absorbing at liquid and is fairly resistant to heat, it is ideal for wicking and provides clean flavor. The disadvantages of cotton is that it has a limited life span and sometimes wicks inconsistently. Flax fiber is also utilized these days due to its higher burning point than cotton. It tends to be more resistant to dry or burnt hits. Tea fiber is also becoming more prevalent for wicking for its ability to wick evenly and provide a more consistent overall flavor than cotton. The disadvantage of tea and flax fiber is they are not as accessible as coils that utilize cotton.
Tank and coil structure - The structure of the tank and coil is integral to its overall performance. It can determine whether a tank is resistant to issues like leaking or spitback. Be sure to choose a tank with a solid structure and worry-free performance.
Now that we have looked at what to look for in a vape tank, you probably have a better idea as to what makes a tank good or bad. Many vape tanks have weak performance with inconsistent flavor, burnt hits, spitback, noisy airflow or are just poorly designed. Last but not least, you want a well-constructed tank with a solid structure and design.
Best Sub Ohm Tanks of 2019
Sub ohm tanks are vape tanks designed for big clouds. They are generally used for high-wattage direct lung vaping, which means they have a loose and airy draw. Sub ohm tanks can also be utilized for mid-range vaping when combined a more restrictive airflow setting and higher ohm coils. Here are some of the pros and cons of sub ohm tanks so you can decide if they are the best option for you.
Advantages
More convenient than rebuildables - The best sub ohm tanks can provide a similar experience to a rebuildable atomizer but they utilize pre-built coil heads. They are the easiest way to achieve a direct lung vape without building and wicking your own coils.
Wide airflow - Sub ohm vaping requires a sufficient amount of airflow for direct lung vaping. The airflow cools down the vapor which allows you to vape at higher wattages. Most sub ohm tanks have adjustable airflow so you can customize your airflow setting.
Big clouds - You don't need to be a pro cloud chaser to get some big clouds. Sub ohm tanks are the simplest and easiest way to chase clouds all day. They put out more clouds than mouth to lung tanks and smaller vape pens. Sub ohm tanks are designed for clouds.
Intense flavor - With more vapor comes more flavor. Sub ohm tanks provide an intense rush of flavor due to their strong vapor output. Sub ohm vaping flood your taste buds with flavor and provides warm delicious vapor. Ideal for flavor chasers and cloud chasers.
High-wattage vaping - If you prefer a warm vape at higher wattages, sub ohm tanks are the right choice for you. They generally support lower resistance coils which depend on higher wattages to put out big clouds of vapor.
Compatible with high-VG e-liquid
Sub ohm vaping and high-VG e-liquid goes hand in hand. Sub ohm tanks have bigger wick holes and vaporize more liquid, so they tend to work best with high VG e-liquid. If you vape higher viscosity e-liquid (70% VG and higher) then sub ohm tanks are for you.
Disadvantages
Not for mouth to lung
Mouth to lung vapers prefer a tighter style draw. Therefore sub ohm vaping is not suitable for people who want a vape that simulates the experience of a cigarette.
Require higher wattages
Sub ohm tanks demand more power. You might need a dual-battery mod if you want to get through the whole day with your sub ohm tank. Typically the lower the coil resistance, the more power will be required.
Drains e-liquid faster
Sub ohm tanks tend to go through e-liquid much faster. This is mainly because they are more powerful than your typical tank, and vaporize e-liquid more rapidly.
Not stealthy
Since sub ohm tanks produce a lot of vapor, they are not as discreet as smaller tanks. If you're a stealth vaper, you can still use sub ohm tanks. You will probably want to use less wattage and airflow and take smaller puffs if you want to produce less noticeable clouds.
Recommendation: Cascade Tank
The Cascade is the best sub ohm tank you can get. It has a unique isolation structure to ensure that your coil is always saturated, so you get the perfect hit every time. It has a unique triangular structure that is easy to adjust and provides tons of smooth airflow. The Cascade comes in six colors and is fully customizable with different color glass sections and drip tips available. It provides great flavor, tremendous clouds, is capable of handling extremely high wattages and is compatible with the GT Core series of coils.
It can be purchased directly from the manufacturer for $41.90, and it comes with two types of coils, an adapter, a replacement glass tube, an O-ring and a user guide.
If you want an intense vape session or impressive vapor clouds, the Cascade tank is perfect for sub-ohm vaping.
The Best Vape Tank For Flavor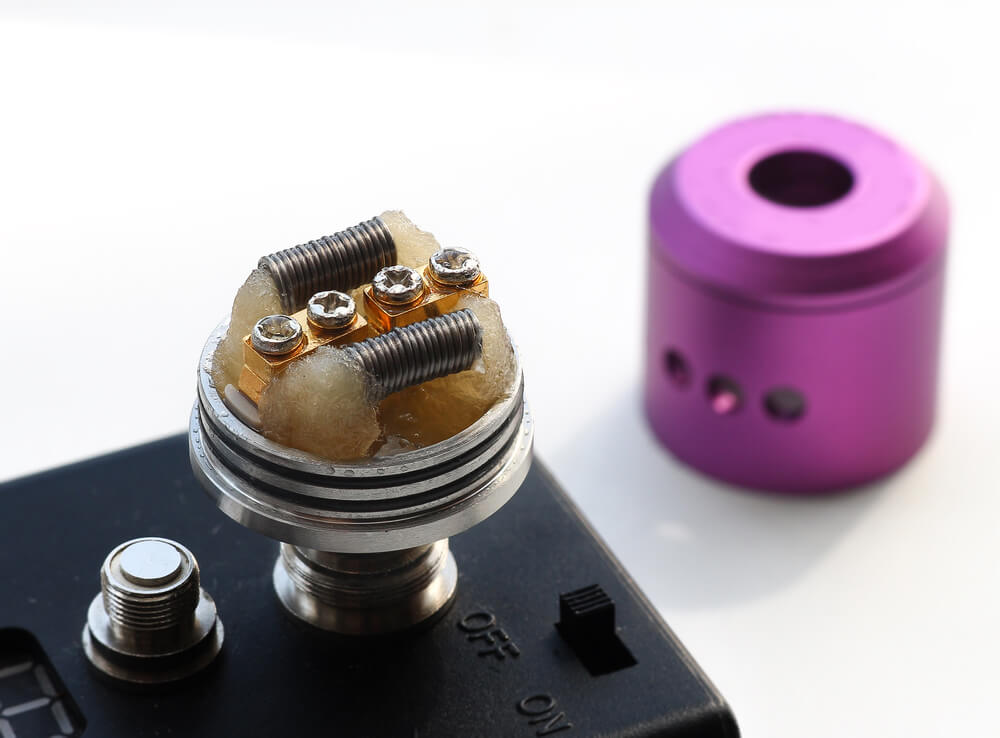 Everyone looks for a good flavor experience when vaping, but for some people, this is the most important aspect. If you care about getting the best, most intense flavor, you'll want a vape tank designed specifically for that.
Most often, these are used by MTL vapers and people who are trying to kick a smoking habit.

Our Pick
For a truly great taste experience, we like the Skrr-S tank. This tank has both QF and GT coils, which makes it stand out. The QF coil features an innovative strip design that allows the tank to heat up faster and more evenly. QF coils also have a considerable life span compared to other coils, so you'll save time and money with fewer replacements.
It has a flax fiber wick that absorbs more liquid than other wicks, which allows for intense flavor production. Flax is also extremely durable and often outlasts other natural wicks.
The Skrr-S is easily adaptable and has functional features like a simple top filling, leak-resistant design and controlled airflow for zero-spitback vaping. You can grab the entire tank kit for just $39.90 on Vaporesso.com.
The Best Vape Tank For Beginners
Choosing a starter tank can be daunting for beginners because there are just so many options.
Beginners should look for the following features:
1. Easily refillable
2. Simple coil change
3. Sturdy glass construction
It can be tempting to grab a tank that looks cool or that your long-time vaping friend likes, but these can often be a little too complex for newbies. Starting simple allows you to get a feel for how everything works so that you can customize later on.
Our Pick
For beginners, we recommend keeping it simple with the NRG SE tank. It's a sleek, solid tank that's perfect for anyone just getting started with vaping. It's adapted to function with any GT coil, and it has a foolproof slide cap that allows for quick and easy refills.
This tank also comes in three sizes, which means that you can decide which capacity is best for your needs. All three sizes are elegantly designed, and the Pyrex glass tube is durable and long-lasting. The NRG SE kit also comes with a replacement tube in case the first gets dropped or broken.
It's also very affordable at only $29.90 on the Vaporesso site.
The Best Tank on a Budget
Pricier doesn't always mean better. There are plenty of affordable vape tanks available that provide an excellent vaping experience. You may not find a tank that's as flashy as some of the most expensive styles, but there are plenty of well-designed tanks that will easily fit your budget.
Our Pick
The Veco tank is one of the best, most budget-friendly tanks on the market. It has a simple, time-tested design that offers a high-quality vape every time. It has a top-centric system that keeps everything streamlined. The airflow is positioned near the mouthpiece, and the entire top screws off for easy refilling.
The ceramic CCELL coil and cotton wick combination offers a smooth, consistent experience with plenty of vapor, and the tank can be flipped over and unscrewed when it's time for a change. Not only is this easy, but it conserves unused juice as well.
This budget-friendly tank kit is only $19.90 and includes an extra coil and tank replacement.
In Summary
The world of vaping is vast and offers endless customization possibilities. While this is great for some, it can be intimidating for others. The five tanks listed above are some of the best, most reliable picks available, but ultimately, there are plenty of great options on the market for any type of vaper.
Finding the best vape tank will depend on your personal goals, preferences and vape style, but the set of options discussed here are a perfect place to start.