A descendant of the QF Solo, Vaporesso 's new Sky Solo is an all-in-one ecig for beginners who want more power than a pen-vape. The battery unit delivers up to 90 watts, and produces an impressive level of vapour given its compact form Measured at 26 mm in diameter and about 10 cm in length, you won't even realize it's in your pocket. And when it comes to flavour, you won't be disappointed. The thick vapour is rich and full of flavour, and trying out different e-liquids is a great experience with this kit. Featuring the now-famous OmniBoard chipset,safety is also a priority.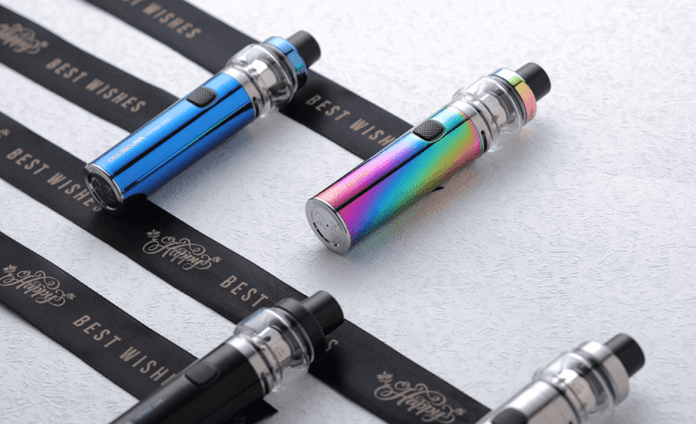 No settings to worry about
This auto-regulated device has only a single input, the firing button,a trend that is becoming commonplace in the vaping market. But the truly unique aspect of the Sky Solo is the proprietary connector between the battery and the atomiser. No 510 pin here,the Sky Solo battery will only work with the Sky Solo atomiser. The design is unique in the sector: the resistance is screwed directly into the battery unit, rather than the atomiser. This is what holds the unit together, much like motorcycles where the engine is a component of the frame. In everyday usage, granted, this doesn't change much, however it means you can change coils with a full tank of e-liquid. Filling is done through the drip top.
The Sky Solo is compatible with GT Mesh coils with a 0.18 ohm rating which, as the name suggests, come in a mono coil mesh surrounded by cotton wicking. The recommended Wattage for these coils is 50 to 85W. A last point, which may be a deal-breaker for some: Airflow is not adjustable. However, the airflow is calibrated perfectly for GT Mesh coils, and since you can't adjust power or change the atomiser, you won't need to adjust the airflow in the first place.
Technical specifications
All-in-one
Integrated 1400 mAh battery
5 ml tank
Max output: 90W
GT Mesh 0.18 ohm coils
Diameter: 26 mm
Includes USB charging cable and spare seals in various colours
BlogVape is an independent information blog on vaping and tobacco news. It's updated daily and offers a factual, informative and teaching editorial line.
You'll find on BlogVape the latest news concerning electronic cigarettes and tobacco cessation. The matters discussed can be economical, scientific, social or regulatory.
BlogVape also offers, for those of you who wish to know more about vaping, some thematic-based articles, tutorials on electronic cigarettes or technical guides. Our FAQ and our glossary will also enable you to better understand the vocabulary and the technical aspects behind vaping. Finally, the news are available in French, English and German.