If you are a first-time vape user or have been vaping for some time, you may have some questions about coils. As you likely know, coils are one of the most important parts of your vaping experience.[i] Coils are components inside your vape's atomizer that convert energy into heat and vaporize e-liquid from the saturated wicking material.[ii]
One of the more controversial breakthroughs in recent years is the ceramic coil. Ceramic coils are a point of conflict within the vaping community, as these coils have several positive and negative attributes. Ultimately, we are here to clean up any misinformation or rumors so that you can make the right decision for yourself.
What is a Ceramic Coil?
Let's start with the basics. Ceramic coils are coils that, quite obviously, leverage ceramics to improve longevity and protect against issues like oxidation of the metal in your vape. While they may take more time to heat than other coils (like quartz coils), they are known for superior heat retention.[iii] Some of the other benefits touted by manufacturers include a longer life, self-cleaning properties, and the absence of dry hit.[iv]
Having said this, one of the most notable benefits of ceramic coil technology is that it delivers the purest vapor flavor in the marketplace today. They offer a full flavor with maximum terpene profiles. In addition, there is no burnt taste, which many vape users will appreciate.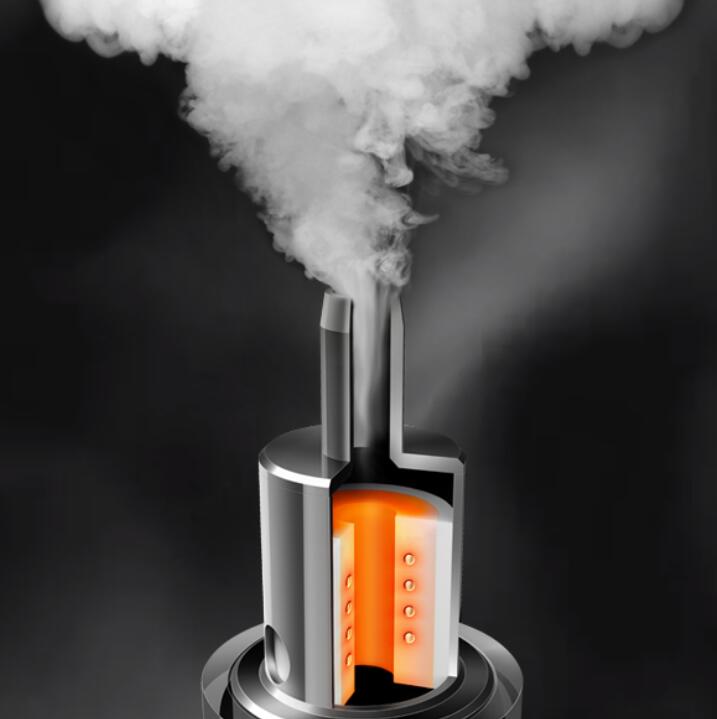 Ceramic Coils Vs. Standard Coil
One of the largest differences between ceramic coils and standard coils is the way that they are constructed.[v] While ceramic coils contain no wick, most standard coils rely on a wire and fiber wick combination. Instead of wick, ceramic coils contain a layer of ceramic. Some ceramic coils do have this hybrid combination of a cotton wick sandwiched between (or surrounding) the ceramic. But when you are ready to replace these ceramic coils, you would just replace the cotton wicking material as necessary.
Also, because ceramic is porous, ceramic coils absorb your e-liquid which is then heated to produce vapor. This is why there is better flavor quality in ceramic coils as opposed to standard coils.
The Nine Advantages of Ceramic Coils for Vaping
Considering the differences between ceramic coils and standard coils, why would you want to choose a ceramic coil? We have gathered nine advantages that are inherent within ceramic coils.
Optimum Viscosity: By choosing ceramic coils, you can use a thicker viscosity in your tanks than you can in wicking coil cartridges.[vi] This is because the heating element and fiber tube in one ceramic device will not degrade.

Improved Flavor: With ceramic coils, vape users typically report improvements in flavor. There is nothing in a ceramic coil that will interfere with or react with your e-liquid's flavor. Ultimately, the increased surface area from the coil's ceramic material means that more juice is vaporized with each puff.

A Long Life Span: Ceramic can withstand high temperatures, meaning that the lifespan of your ceramic coil is much longer compared to standard coils. In addition, dry hits do not cause damage because the ceramic around the coil offers a significant level of protection.

No Burnt Taste From Dry Hits: A ceramic coil reduces the chance that you obtain the bad taste that comes with a dry hit. The nasty taste of singed wick material disappears with a ceramic coil.

Reduced Spit-Backs: With a ceramic coil, there is less of a chance of a spit-back. This is because any e-liquid that spits out of the coil must travel through the ceramic before reaching your mouth. Small pores within the ceramics also prevent juice from pooling around your coil.

Temperature Regulation: Ceramic coils provide you with the opportunity to regulate the temperature of your vape pen.[vii] By contrast, other wicks (like cotton wicks) have no temperature controls and are far more likely to overheat.

Better Vapor Integrity: Ceramic coils allow for more juice to be vaporized while simultaneously maintaining the delivery of the juice. Ultimately, you need less juice because of the ceramic coil's excellent heating ability.

Resilience: Unlike cotton coils, dry hits will not damage or destroy ceramic coils. The heat-resistant quality of ceramic coils offers maximum levels of protection, meaning that you can use these coils for much longer.

Self-Cleaning Properties: As compared to other coils, ceramic coils are self-cleaning, meaning you are spending less time on maintenance and more time vaping.
The Three Disadvantages of Ceramic Coils for Vaping
As with anything, there are several disadvantages for choosing ceramic coils in your vape.
Limited Choices for Tanks and Coils

: Ceramic coils are

still fairly rare

. As compared to ordinary coils wicked with cotton, ceramic coils are more difficult to find. Ultimately, you may need to

pick up another tank

to try out ceramic coils.

Faster Consumption of E-Liquid

: While ceramic coils do provide improved flavor, the downside is that they

consume juice faster

than standard coils. It's not the end of the world since

higher juice consumption is correlated with performance benefits

, but it is something you can'

t ignore.

Health Risks

: Some researchers and reviewers of ceramic coils initially expressed some concerns about potential health risks. That said, subsequent test of ceramic coils revealed

no apparent concern about particulates from ceramic coils

. Ultimately, the studies are inconclusive, but the

worst-case scenario

is that long-term vaping with ceramic coils may pose a severe health risk.
Vaporesso CCELL Coils
One of the best ceramic coils on the market is from Vaporesso. Created in 2015 by its parent company Shenzen Smoore Technology, Vaporesso's mission is to provide users a vaping life which is safe and of the highest quality.[viii] The company owns a portfolio of 800 patents and it is continuing to innovate in the vaping sector. While it was created in 2013, the company is backed by 13 years of manufacturing and research experience through its Shenzen Smoore Technology.
As for ceramic coils, Vaporesso released CCELL Ceramic Vape Coils, which deliver the truest taste of your e-juice.[ix] The coils were developed to improve provide several important benefits, including a non-spit experience, no dry hits, a more durable coil with a longer life cycle, true taste, and availability in different metals to suit user preferences.
There are two designs of Vaporesso ceramic coils. The first is the microporous design. Essentially, this design is a cylinder molded around a resistive wire. With this, the material used is Silicium and the ceramic is nothing less than glass. A typical example of this design is the Vaporesso CCELL coil and this design is generally preferred for better flavors. The second design is a wire embedded in ceramic design. Some of the products that leverage this design include the Vaporesso Target, Freemax Scylla, Freemax Stare, and Horizon Krixus.
All Vaporesso products incorporate ceramic coil technology from Feelm, another company owned by Shenzen Smoore Technology. Feelm's ceramic coil technology (particularly, its innovative heating system for vapor products) has gained widespread recognition, including a Golden Leaf Award as the most exciting newcomer in the industry.[x] Ultimately, Vaporesso ceramic coils combined with Feelm's innovative technology can provide the best experience for vape users.
The Ceramic Coil Revolution
Ultimately, ceramic coils represent a major development in the vaping world. You will have to analyze the advantages and disadvantages and make the best choice for yourself. But if you do decide to use ceramic coils, we encourage you to use Vaporesso ceramic coils for the best experience. You can thank us later.
[i] BlackNote, Ceramic Coils for Vaping: Pros and Cons, Vaping Website, July 24, 2018.
[ii] Totally Wicked, Vape Coils for Dummies, Vaping Website, June 11, 2018.
[iii] Green Tank Technologies, Wick vs. Quartz vs. Ceramic: What's the Best Coil Type For Vape Pens?, Vaping Website, Oct. 29, 2018.
[iv] Vaping Post, Ceramic Coils: Advantages and Disadvantages, Vaping News Website, Oct. 4, 2016.
[v] CigBuyer.com, Ceramic Cil Tanks - A Promising New Trend in Vaping, Vaping Website, Mar. 23, 2016.
[vi] FarmtoVape, Ceramic vs. Wire Coils for Vaping Cannabis Oil, Vaping Website, June 22, 2017.
[vii] FeelmTech, Is Ceramic Coil Amazing?, Vaping Website, Date Unavailable.
[viii] Tobacco Reporter, And the Winners Are…, Tobacco News Website, Sept. 12, 2018.